When Everett Cunningham got his first job selling non-steroidal anti-inflammatory drugs (NSAID) for Pfizer, he was already familiar with those kinds of medicines and how they're used.
Now the Chief Commercial Officer at Madison-based Exact Sciences, Cunningham grew up playing baseball in Waterloo, Iowa ("The true Midwest," as he calls it). Drafted by the Cincinnati Reds in the 26th round of the 1985 draft, he opted – at the urging of his father – to accept the scholarship offered by Northwestern University, where he played for three years as a pitcher before being drafted in the fourth round in 1988 by the Texas Rangers. He was on his way up the minor league system when he tore his rotator cuff in 1991.
"I remember calling my dad saying, 'What am I going to do?' And he said, 'You have a Northwestern degree. Do what 99.99% of people do – get a job,'" Cunningham said.
Cunningham's older brother was working in a Chicago-area Pfizer manufacturing facility, and got Everett an interview for a sales job. He landed that job, selling the NSAID Feldene. Cunningham's wife, a former softball player he'd met at Northwestern, was in medical school at the University of California-San Francisco at the time, so he joined the Pfizer sales team in the Bay Area.
He brought his own experience as a professional athlete to the table, as well as family experience with illness.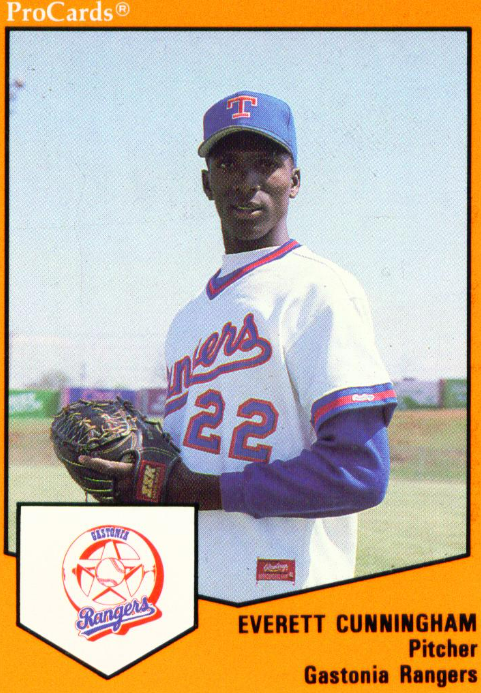 "My dad had a muscular disease called polymyositis and I wanted to learn more about that. I really got into what pharmaceuticals did to extend and create a better quality of life for people," Cunningham said. "And going through my dad's illness and my wife being in medical school, I doubled down on learning the healthcare environment, learning mechanisms of action of medicines, and five years into it, I became an expert in my mind."
After 21 years, he was more than an expert – he was head of the entire Asia Pacific region for Pfizer, overseeing a three-billion-dollar operation. He left for a new challenge in the diagnostic space with Quest Diagnostics, followed by a stint as head of North American operations for GE Healthcare, where he had to learn about capital equipment as well as other aspects of the medical device business.
It was a dinner with Exact Sciences CEO Kevin Conroy that brought Cunningham to Madison about a year and half ago.
The Madison company was in the midst of a massive transformation. Building on the success of its flagship product Cologuard – the first noninvasive colorectal cancer screening test, approved in 2014 – Exact Sciences grew rapidly, acquiring IT company Sampleminded in 2017 and DNA preservation company Biomatrica in 2018. After opening a massive new facility in Madison in 2019, the company merged with Genomic Health and acquired Paradigm and Viomics just as the COVID-19 pandemic was gripping the world, and acquired Thrive Earlier Detection and Base Genomics later in 2020, bringing the total employee count to over 6,400. Exact's labs also served as one of the state's principal locations to process COVID tests at the same time.
Conroy was able to convince Cunningham, who wasn't even looking for a job at the time, to join the burgeoning company at a critical time.
"What Kevin said that really got me here was, 'You'll do the same job, but you're going to be hooked to a mission – this eradicating cancer thing,'" Cunningham said. "I've been here now for a year and a half and he's right … A lot of things that we do are state of the art, first-to-market stuff that's innovative, and when you introduce it to physicians, caregivers, advocacy people … it's actually changing lives."
Much of that mission is accomplished through Cologuard, which got a significant boost earlier this year from an unexpected source: Saturday Night Live.
In a February edition of the long-running sketch show, host Woody Harrelson starred in what started like a pretty run-of-the-mill commercial … but which quickly escalated to poke fun at the nature of the test.
Cunningham said Exact Sciences had no involvement – or even awareness that it was coming. It made for "a very busy Sunday morning," he said. Traffic to the company's website quadrupled, he said.
"I think it was done so well in a spoofy way that people thought we were behind it. I had a buddy who called me and said, 'Well. Done,'" he said. "I wish I could take credit, but we had nothing to do with it."
He said the very existence of the sketch bodes well for the company.
"You only get a Saturday Night Live skit if people will know what you're talking about," he said. "People obviously know what Cologuard is, and there's some awareness. Someone in the writers room thinks this is gonna be funny."
As funny as the sketch was, the serious issue remains: 44 million people who should be screened for colorectal cancer who haven't been. And a disproportionate number of those are Black or brown.
"It's cultural," Cunningham said. "Being a Black man – I can say it because I grew up in this environment – wellness screening is not part of our conversations in Black households."
But it's not all cultural – it's also about access, Cunningham said, as clinics in poorer neighborhoods tend to get access to inferior screening tools.
"I do not want screening rates to be different because of the zip code," Cunningham said. "That's what my passion is. We're not all of a sudden saying this zip code, because of the mix of patients, is more profitable than this other zip code. That should not exist, and it does not exist in Exact Sciences. And that's my passion as an African American leader."